My first Windows Phone robot – Part 1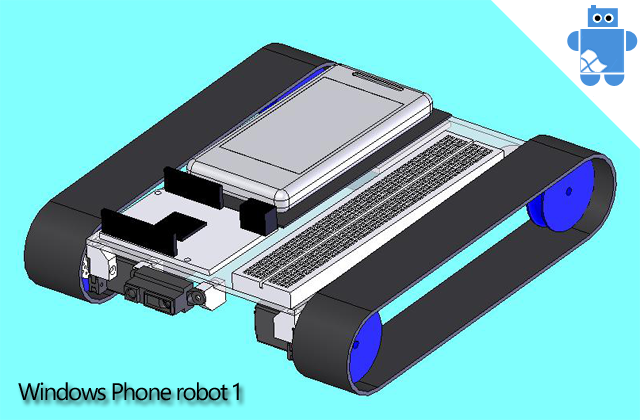 Voilà une vue CAO rapide du premier robot Windows Phone que je veux réaliser. C'est un robot très simple. L'idée était de faire un robot vraiment bon marché.
Here is a quick CAD view of the fist Windows Phone robot that I want to make. It is a very simple robot. The idea was to make a robot really cheap.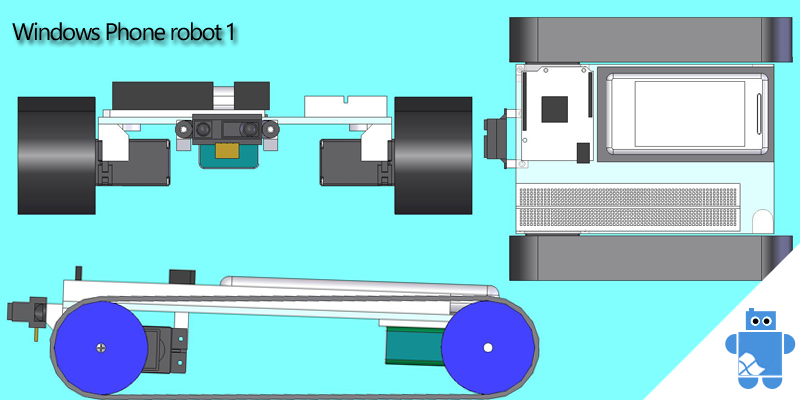 Comme vous pouvez le voir sur le dessin, il est composé de :
2 servos à rotation continue qui entraine 2 chenilles par l'intermédiaire de 2 roues motrices et 2 roues libres
1 capteur IR de distance SHARP GP2D12
1 Windows Phone posé sur une mousse adhésive + son cable port série + 1 FEZ Panda
1 étage d'alimentation composé d'une pile 9v dans son holder. Cette tension est régulée en 5v par un régulateur linéaire (LM7805)
Le tout est fixé sur une plaque de Plexi par l'intermédiaire de petites équerres en plastiques.
 As you can see on the drawing, it is made with:
2 continus rotation servos which drive 2 carterpillar tracks via 2 driving wheels and 2 free wheels.

1 IR distance measuring sensor SHARP GP2D12

1 Windows Phone on its adhesive foam + its serial port cable + 1 FEZ Panda

1 power supply stage made with a 9v battery and its holder. This voltage is reduced and regulated to 5v by a linear regulator (LM7805).

Each part is fixed on a Plexi plate by plastic brackets.
Welcome !

WPBots.com is a blog which talks about robots made in C# based on .Net MicroFramework and Windows Phone.