My first Windows Phone robot – Part 3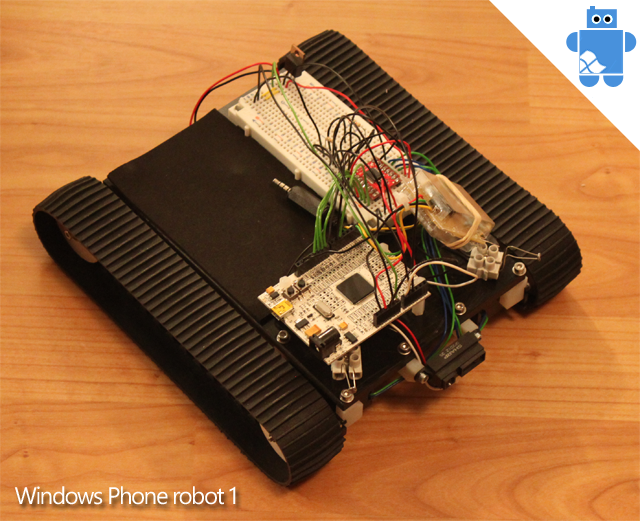 Ça y est, j'ai trouvé un moment et le robot est terminé. L'électronique et le code sont finis.
Voilà une vidéo qui montre le robot en action. Deux modes sont présents dans la vidéo :
    Le premier : mode « Télécommande ». Le robot est piloté par l'interface du Windows Phone.
    Le deuxième : mode « Auto ». Le robot est autonome et les informations des capteurs sont envoyés sur l'interface du Windows Phone.
Pour le mode « Auto », j'ai mis en place quelques comportements simples comme chasseur de lumière ou bien des comportements d'évitement d'obstacles.
Le comportement présent sur la vidéo est très simple : Si le capteur IR ne détecte rien, le robot avance, s'il détecte un obstacle il tourne sur la droite. Si le robot détecte un robot très proche, alors il recule.
Here it is ! I found some free time and the robot is over. the software and the electronic are done.
Here is a video showing the robot in action. We can see it through 2 working modes :
First one : « Remote » mode. The robot is controlled by the Windows Phone interface.

Second mode : « Auto » mode. The robot is autonomous and the data coming from the sensors are sent to the Windows Phone interface.
For the « Auto » mode, I put in place some simple behavior like a « light hunter » or some behavior to avoid obstacles.
The behavior presents in the video is very simple : If the IR sensor sees nothing, the robot is moving forward. If it sees something, it turns right. If the robot see an obstacle very close to it, it moves backward.
Au niveau électronique, on retrouve :
- un driver double canal piloté en PWM par la FEZ Panda (2 PWM + 4 sorties digitales pour les modes de marche). Le robot est équipé de deux servos au niveau des roues motrices mais ils ont été modifié pour les convertir en moteur à courant continu à rotation continue (suppression des butées, du potentiomètre et de toute l'électronique).
- 2 ponts diviseurs de tension permettant de capter le niveau lumineux des 2 photorésistances sur 2 ports analogiques de la FEZ Panda.
- 1 régulateur linéaire de tension 7805 permettant de convertir le 9v de la pile en 5v.
- Le capteur IR est directement raccordé à une entrée analogique de la FEZ Panda.
- Le câble port série pour Windows Phone est relié sur le port COM1 de la FEZ Panda.
In term of electronic, we can find :
A dual PWM motor driver driven by the FEZ Panda (2 PWM, 4 digital outputs for the working modes). The robot uses 2 servos for the driving wheels but they are modified to convert them into continuous rotation DC motor (No more potentiometer or electronic inside).

2 voltage dividers allow to sense light level from the 2 photo-resistors via 2 analogue inputs of the FEZ Panda.

1 linear voltage regulator 7805 allows to convert the 9v from the battery into 5v.

The IR sensor is connected to an analogue input of the FEZ Panda.

The Windows Phone serial port cable is connected to the COM1 port of the FEZ Panda.
Welcome !

WPBots.com is a blog which talks about robots made in C# based on .Net MicroFramework and Windows Phone.